The Five Behaviors® Practitioner 
Certification
The Five Behaviors® Certification prepares practitioners to deliver engaging and impactful Five Behaviors® learning experiences that help build cohesive teams. In this two-week immersive experience that combines live, instructor-led sessions with self-guided online learning, participants will:
Deepen their understanding of The Five Behaviors model and key principles.
Familiarize themselves with the full Five Behaviors® solution portfolio: Team Development and Personal Development.
Explore how to build, customize, and deliver impactful Five Behaviors learning experiences to address unique team development training needs.
Practice facilitation techniques while receiving feedback from peers in a supportive environment.
Gain access to Wiley's online training center, connecting them to course content that they can continue to access as a resource after the course concludes.
Upon successful completion of the exam, participants will earn the credential of The Five Behaviors Certified Practitioner, signaling proven competence in shaping engaged, cohesive, and high-performing teams—and knowledgeable in the language of The Five Behaviors.
Course Structure and Schedule
The Five Behaviors® Certification course spans two weeks of learning, combining live, instructor-led sessions with self-guided online learning. Specifically, participants will:
Complete five asynchronous learning modules (approximately three hours of online coursework per module).
Attend and engage in four live, instructor-led virtual sessions (two hours each).
Present an application project and receive valuable feedback.
Take the final Certification Exam to measure understanding of the key Five Behaviors® concepts (a passing score of 80% is required).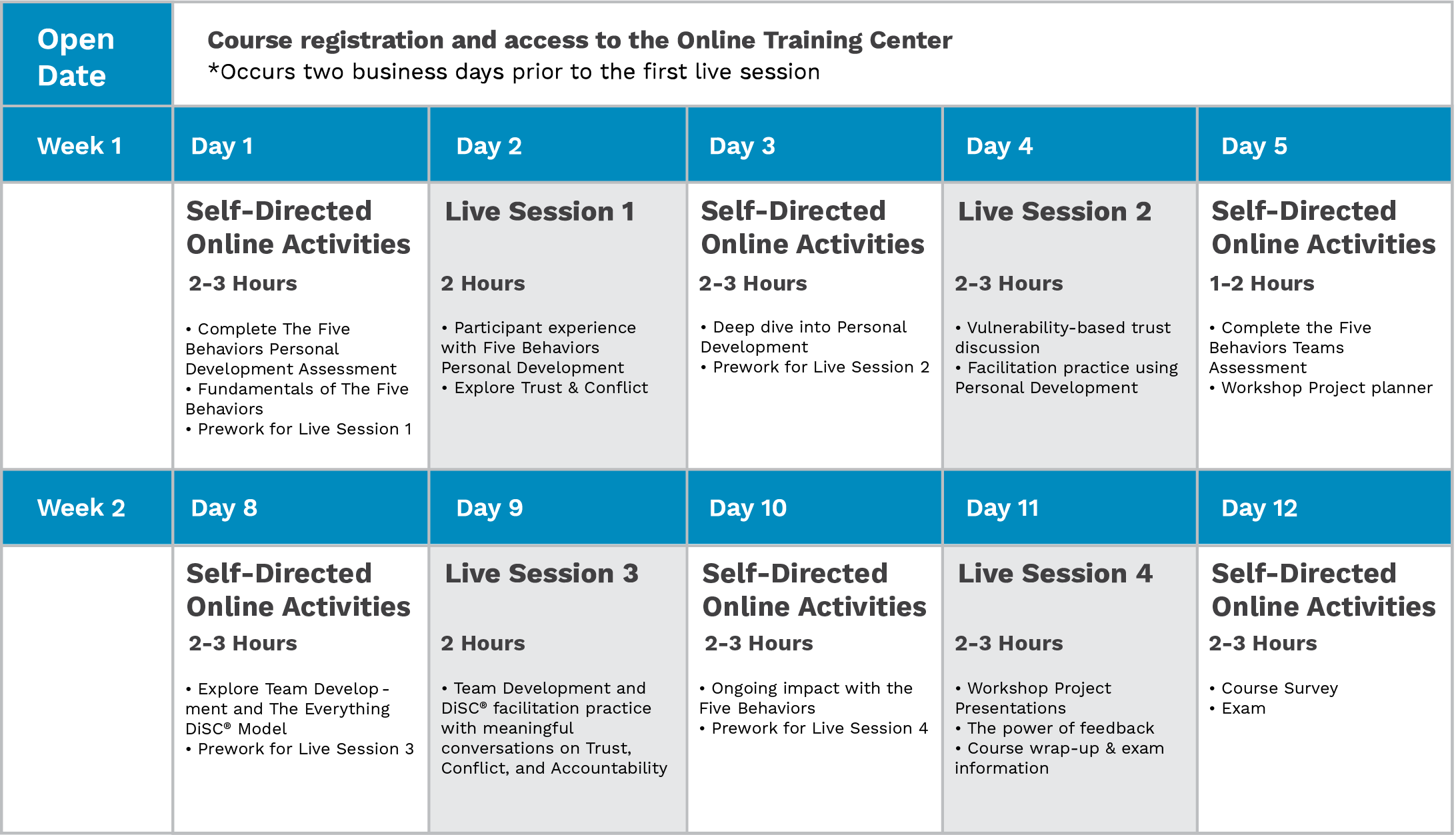 Course and Technical Requirements
Participants are required to own The Five Behaviors® Team Development or Personal Development facilitation kit, as content in the facilitation kit will be referenced throughout the course. This will ensure participants receive the best learning experience possible. In addition to the kit, learners must also:
Commit to two weeks of self-guided online work, and attend all four instructor-led, virtual classroom sessions.
Complete all self-directed asynchronous learning modules and the course project on time.
Earn a passing score on the final exam (80%+).
Have access to the internet and a computer.
Participants will receive login information for the online training center where they'll begin their self-directed work on the open date of their course. In addition, The Five Behaviors Certification course uses Zoom for live sessions. Participants must ensure their computer can interact successfully with this blended learning course by taking the following steps:
Laptop, desktop computer, or tablet are preferred. Mobile devices are not always compatible with course components.
Virtual classroom sessions require working computer speakers and microphone.
A headset is highly encouraged.
The Five Behaviors of a Cohesive Team™ Facilitator Certification Brochure
Download a Facilitator Certification Brochure
Frequently Asked Questions for
Five Behaviors® Certification
Download FAQ's for Five Behaviors® Certification
Virtual Certification Course $2495/pp plus facilitator kit (below):
*Facilitation Kit Sold Separately
Purchase The Five Behaviors Powered by Everything DiSC Facilitation Kit
*required for certification (International import taxes may be extra)
Five Behaviors Facilitation Kit:
Take your Development to the Next Level
1-800-351-3129